Celebration of diversity and inclusion with a month of themed activities
Throughout February, Rokeby students participated in a series of events in celebration of Diversity and Equality Month.
Activities opened with Philosophy for Children (P4C) sessions which engaged students in an array of activities across the curriculum that aimed to promote discussion on issues relating to diversity and the importance of combatting discrimination, in all its forms, within society.
As part of Rokeby School's outreach programme to local primary schools, children at St Luke's Primary School also participated in P4C sessions, including one hosted at Rokeby School. Charlotte Robinson, Headteacher of Newham's only state-funded boys' school, said: "Our students were fantastic role models and discussions with the St Luke's children focussed on the topics of leadership qualities, diversity and disability rights. It was wonderful to offer these younger pupils a real taste of secondary school life with the added bonus of an enthusiastically received Q&A session with a former St Luke's pupil."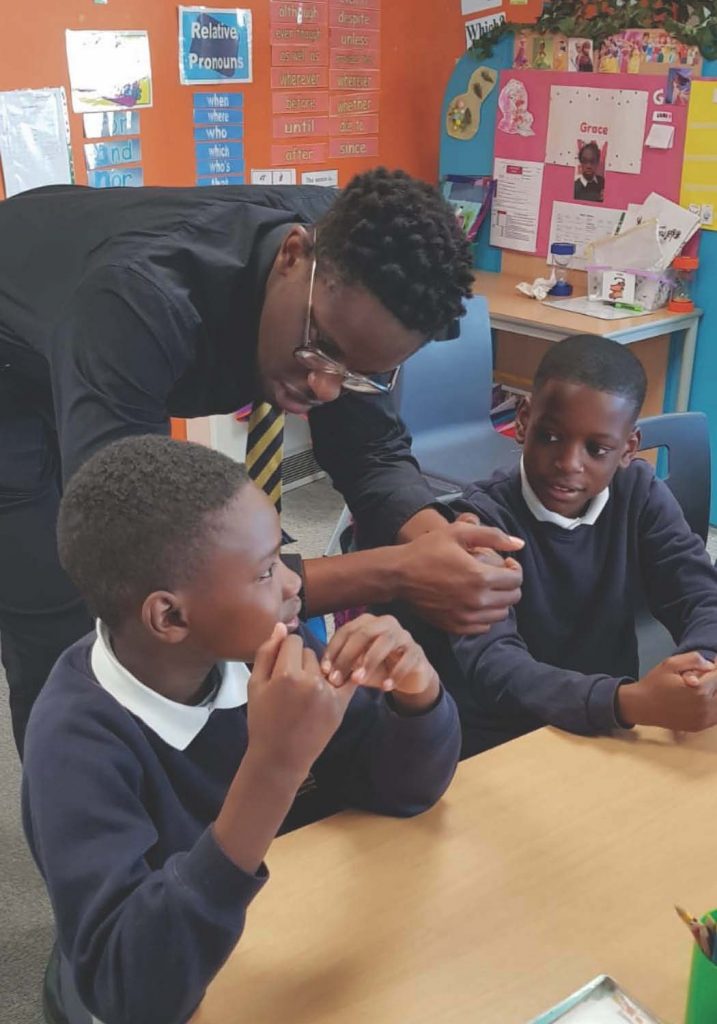 An Inclusive Sports Week was also held at the school's Olympic standard sports hall, involving boys across the school in Paralympic sports and sports designed for athletes with high support needs such as boccia, seated volleyball, polybat, goalball and New Age Kurling.
The school's collaboration with arts-based charity Tender on their new 'RE:SET' project with a focus on healthy relationships was another highlight of Diversity and Equality Month, including drama-based workshops for students, training sessions for staff training and online workshops for parents. Topics included the difference between healthy and unhealthy relationships and the challenges of peer pressure, transition and change. The school's Student Equalities Group continues to work with the charity on a number of new initiatives including The Kindness Challenge which encouraged boys in Years 7 and 8 to complete 14 simple acts of gratitude throughout the month of February.
Having recently achieved the School Mental Health Award delivered by the Carnegie Centre of Excellence for Mental Health in Schools in recognition of its work over the past two years to improve mental health and wellbeing provision for staff and students, Rokeby School's extensive work with Tender will lead to accreditation as one of the charity's first Healthy Relationships Champion Schools in the UK.
Ms Robinson added: "As we approach National Offer Day for secondary schools on 1st March, we can begin to work with parents and primary schools to ensure a smooth transition to Year 7 and a positive school experience where they feel valued, supported and able to share concerns as they arise. Our transition programme includes sports tournaments led by our Year 10 Sports Leaders and an induction day in the summer term and an excellent pastoral support system comprising form tutors, year teams, safeguarding leads, behaviour mentors and student support officers.
"At Rokeby, we provide a safe and healthy learning environment tailored to the learning styles and social needs of boys with outstanding sports facilities and extra-curricular opportunities. This reflects positively in our results: our students' progress in English and maths at GCSE has been above the national average for boys for the past five years."
To find out more about a Year 7 place at Rokeby School for September 2022, please call 020 7540 5620 or email info@rokeby.newham.sch.uk. Further information is also available on the school's website at rokeby.newham.sch.uk.